Europe has long been a popular destination for Americans, and recent years have seen an increase in US residents making a move to relocate permanently across the pond. Although considered a country of endless possibilities, promising the American dream, the reality is often different for so many Americans.
Reasons for Americans Moving to Europe
There are various reasons why Americans leave the US and set out to create a new life for themselves and their families. Moving to the European Union has become a real possibility for many due to various relocation opportunities. 
Moreover, the advent of remote work and affordable real estate makes international life and intercontinental opportunities much more feasible.
Housing
Rising real estate prices and an increase in the cost of living across the globe have had an impact on Americans who are looking for a high quality of life without paying inflated prices for their homes and bills. 
The National Association of Realtors found that the average price for a US property is $379,100, making it difficult for many Americans to get on the property ladder. Although life in European cities can be expensive, real estate prices in smaller cities, towns, and villages offer unique possibilities for Americans to own their dream home.
In addition, a strong dollar makes it more feasible for Americans to afford homes and a good life at low cost in other countries.
Health care
Private health care can be expensive, and many Americans are looking for a safer and more affordable way to take care of themselves and their families. Countries in the European Union are considered to have the best health care in the world, with high life expectancy and low infant mortality rates.
American expats can take full advantage of the health care systems of the European country they reside in but should ensure they have the correct health insurance available to foreigners. 
Safety
Gun violence is a constant topic in US news and a factor that many Americans want to escape from. Seven out of the ten safest countries in the world are in Europe, making it the safest continent to live in. Strict firearm laws, low crime rates, fewer political divisions as well as inclusivity and diversity, are attributes Europe is well-known for.
Other benefits
Although not exclusive, there are further benefits to living in Europe as an American expat:
Education:

Europe's countries boast excellent schools and have exceptional education systems. Moreover, most European universities have low or no tuition fees.

Taxes:

European countries have some of the lowest tax rates. Of course, income tax and other tax rates vary depending on the country and a citizen's income.

Diversity of life:

With so many different countries on one continent, the diversity in cultures, landscapes, and people is one of its biggest attractions for Americans to relocate.

Quality of life: Shorter working weeks, longer holidays, and a focal point on work-life balance give European countries the most significant advantage over life in the USA.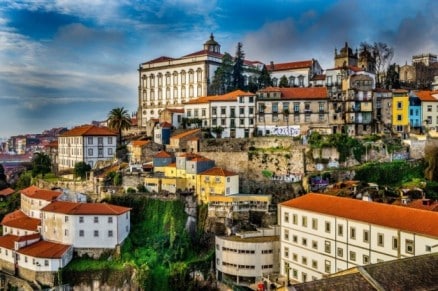 How to Move to Europe as an American
There are various ways for Americans to get a residence permit and to relocate permanently to Europe. Initially, non-EU residents have to obey visa requirements to live in Europe on a temporary basis, before applying for permanent residency. Whether it is a Digital Nomad Visa, a visa to study, or one of its Golden Visas, choosing the right way for you is essential to make your move to Europe a success.
Visa Options to move to Europe from the US
Depending on your intentions for moving, you have several different visa options to consider:
Tourist visa:

 This visa entitles you to spend up to 90 days within 180 days in the European Union (EU). However, it doesn't include the right to work or study.

Work visa: 

Should you receive a job offer in Europe, your employer can sponsor your work visa. The expense associated with a work visa is country-specific and can range from a few hundred to several thousand dollars.

Student visa

: If you want to study in Europe, securing a student visa is essential. Student visa costs vary depending on the country, typically within a few hundred to several thousand dollars.

Entrepreneur visa:

 For those aspiring to launch a business in Europe, several European countries offer the opportunity through an entrepreneur visa

Digital nomad visa

: Certain countries like Portugal and Estonia offer digital nomad visas to foreign nationals working remotely with a foreign employer or independently. Digital nomad visas are usually valid for one year; some countries even offer extensions.

Investment visa: 

Several European nations offer investment programs enabling foreigners to contribute to their economy, often through real estate, government bonds, and investing in local businesses. In exchange for their investment, they are granted residency.
Golden Visas: A Popular Option for Americans to Move to Europe
The popularity of the Golden Visa has increased over the past few years. Whether buying real estate, investing in businesses and enterprises, or paying into an investment fund, many Golden Visa options offer a safe and remunerative way to live abroad. 
To find out more about the best countries for Americans to emigrate to, and how to get a residence permit, check out our article: Best Countries to Move to From the USA.
Regarded as one of the best places to live and work in Europe, Portugal has long been a favorable location for US expats to set up a new life. Relative low living costs, a great housing market, warm and sunny weather, and stunning cities and towns, Europe's most western country is a hit with expats from all over the world.
How Global Citizen Solutions Can Help
If you're ready to take the next steps and learn more about whether living in Europe could be for you, you can find further information in our article Best Places for Americas to Live Abroad. If Portugal, in particular, has piqued your interest, you can read more about relocating to Portugal in our article: Americans Moving to Portugal.
Once you're ready to explore all your options, why not schedule a non-binding and informative call with Global Citizen Solutions to plan the best choice and secure the next steps? We're experts in global migration with a particular focus on investment, residence permits, and work visas, such as the Digital Nomad Visa.
As a professional agency, we work solely for and with you to ensure that you make the best decision depending on your specific situation. 
Frequently Asked Questions about Americans Moving to Portugal
Can US citizens move to Europe?
Yes, Americans can move to Europe. There are a variety of options available, with Golden Visas, Digital Nomad Visas, and other residency schemes available.
What is the easiest country in Europe for an American to move to?
Each country has its own stipulations regarding visas and immigration. Portugal has a straightforward Golden Visa investment program, making it one of the most popular countries for citizens of America to move to.
What is the best European country for an American to move to?
Depending on your preferences, some of the best countries in Europe to move to are Portugal, Spain, Cyprus, and Malta. With warmer climates, friendly people, and a more relaxed way of life, these places are favorites for America's citizens to relocate to.
Is living in Europe better than living in the US?
With every country, there are advantages and disadvantages. Most Americans choose to move to Europe to experience a more relaxed way of life and enjoy better health care, a higher standard of living, cheaper real estate, and more security.