St Lucia Citizenship by Investment
Immigration to St Lucia by investment has become an increasingly popular option. The St Lucia Citizenship by Investment program (CBI program) welcomes individuals and their respective family members to obtain citizenship in exchange for making an economic contribution to the country. St Lucia's tropical benefits and visa free travel to over 130 destinations are enticing reasons to get a second passport and settle down on this beautiful island. 
In this guide, you can find out more about St Lucia economic citizenship including the:
This guide will provide you with everything that you'll need to know about immigration to St Lucia by investment. 
Your guide to Saint Lucia citizenship by investment 
CBI programs offer individuals the unique ability to obtain citizenship by investing in the country, usually in the form of real estate or government donations. With its unspoiled landscapes, warm climate, and world-class beaches, the St Lucia economic citizenship program is the newest and one of the most popular ways to obtain a second passport. You can acquire a Saint Lucia passport by investment by either investing in real estate, the National Economic Fund, into a government bond or enterprise. 
Saint Lucia passport by investment benefits
There are many reasons to choose Saint Lucia nationality and opt for Saint Lucia citizenship by investment. From its booming trade and bustling tourism industry to its paradise beaches and private lifestyle, the investment program's unique benefits include:
Quick application process: One of the fastest turnarounds from the date of application submission. Get your application processed in as little as 3 months.
Entire family are eligible: Inclusion of spouse, children, parents, and grandparents.
Cheapest second passport:

Saint Lucia passport

can be obtained for a minimum investment of just $100,000 financial contribution. St Lucia passport ranking is 32nd in terms of travel freedom.

Investment required only after approval: Complete investments after receiving citizenship application approval.
Flexible requirements: No residence or visitation requirements. Plus no interview, education or managerial experience is necessary.
Visa free travel: Saint Lucia's passport power is undeniable. Enjoy Saint Lucia visa free travel to over 140 countries, including Europe's Schengen zone, the UK, Hong Kong, Singapore, and more.
Tax freedoms: No taxation on capital, wealth, and inheritance tax.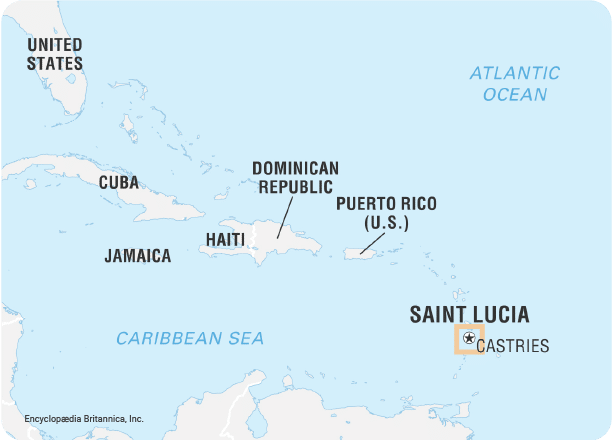 Saint Lucia passport requirements
In order to obtain Saint Lucia second citizenship, a series of St Lucia citizenship requirements must be met first. 
The applicant must:
Be over 18 years old.

Make the required investment and provide detailed information and evidence of the respective investment.

Have an outstanding character.

Have excellent health.

Hold no criminal record.

Pass a detailed background check.

Pay the required non-refundable processing, a due diligence fee, and administrative fees upon application.
A key Saint Lucia citizenship by investment benefit is that it extends to the applicant's family members, meaning they are also eligible for St Lucia citizenship.
The following family members apply:
Spouse

Inclusion of children under 21 years old

Inclusion of dependent children aged between 18-30

Inclusion of mentally or physically challenged dependent children and/or parents.

Inclusion of parents and/or grandparents aged 55 or above 

Inclusion of siblings of the main applicant,  if below the age of 18, unmarried, and who've received consent from his or her parent or guardian to apply for citizenship by investment
Saint Lucia CBI options
There are four investment options to choose from when considering St Lucia citizenship.
National Economic Fund
Saint Lucia National Economic Fund (NEF) is a special fund established by the government to receive financial contributions for funding government sponsored projects.
Once an application for citizenship by investment via the NEF route has been approved, the following minimum investment is required:

*Additional processing, due diligence, and administrative fees apply.*
Pre-approved real estate investment
There are two options available to applicants who wish to go through the Saint Lucia real estate route. 
Option 1: Invest a minimum of US$300,000 in pre-approved high-end branded hotels and resorts
Option 2: Invest a minimum of US$300,000 in a boutique property
Condition of investment: Applicant must execute a binding purchase and sales agreement for an investment in an approved real estate project. Investments, equalling the agreed purchase price, must be deposited in an approved escrow account managed by the real estate developer and the Citizenship by Investment Unit in Saint Lucia.
*Additional processing, due diligence, and administrative fees apply.*
Enterprise investment Saint Lucia
There are seven options available to applicants who wish to go through the Saint Lucia citizenship by enterprise option. 
Option 1: Specialty Restaurants
Option 2: Cruise ports and marinas
Option 3: Agro-processing plants
Option 4: Pharmaceutical products
Option 5: Ports, bridges, roads, and highways
Option 6: Research institutions and facilities
Option 7: Offshore universities
Once a Saint Lucia citizenship application via the enterprise route has been approved, the following minimum investment is required:
A sole applicant: A minimum investment of $3.5 million
More than one applicant (joint venture): A minimum investment of $ 6.5 million with each applicant contributing no less than US$1 million.
*Additional processing, due diligence, and administrative fees apply.*
Government bonds 
Saint Lucia Citizenship by investment can also be obtained through the purchase of government bonds [no-interest requirement]. These government bonds are required to be registered and remain in the name of the applicant for a 5 year period from the date of first issue. 
Once a Saint Lucia citizenship application by means of an investment in government bonds has been approved, the following minimum investment is required:

*Additional processing, due diligence, and administrative fee will apply.*
Tax considerations
Saint Lucia residents and citizens enjoy relatively relaxed conditions. There are no capital gains and no inheritance or wealth taxes on worldwide income or assets.
Note that some local considerations apply. Namely, residents of Saint Lucia pay personal income tax rates (PIT) deriving from domestic activities. Individuals who are not residents pay taxes in St Lucia, but only on income received from local sources. Additionally, property taxation is 0.25% of the market value of housing. Buyers of real estate who are non-residents of Saint Lucia should additionally obtain a license for land ownership, paying 7.5% of the property value.
Key considerations include:
PIT scale:
Up to 10,000 East Caribbean Dollars (XCD) – 10%

10,000 to 20,000 XCD – 15%

20,000 to 30,000  XCD – 20%

over 30,000 XCD – 30%

The minimum non-taxable PIT for individuals is 18,000 XCD
Company and wages:
Companies registered in Saint Lucia pay only corporate income tax at a minimum rate of 1% (in some cases, a zero rate applies) or an annual license fee, the amount of which depends on the size of the company's charter capital.

Wage earners must pay a 5% taxation on their salary to the social security fund, but this amount should not exceed 5,000 XCD.
VAT payment terms:
VAT rate is 15%. For a hotel business, a reduced rate of 8% applies.

Registration for VAT payment is required if the total annual cost of supplies exceeds the threshold of 180,000 XCD.
Saint Lucia CBI application processing time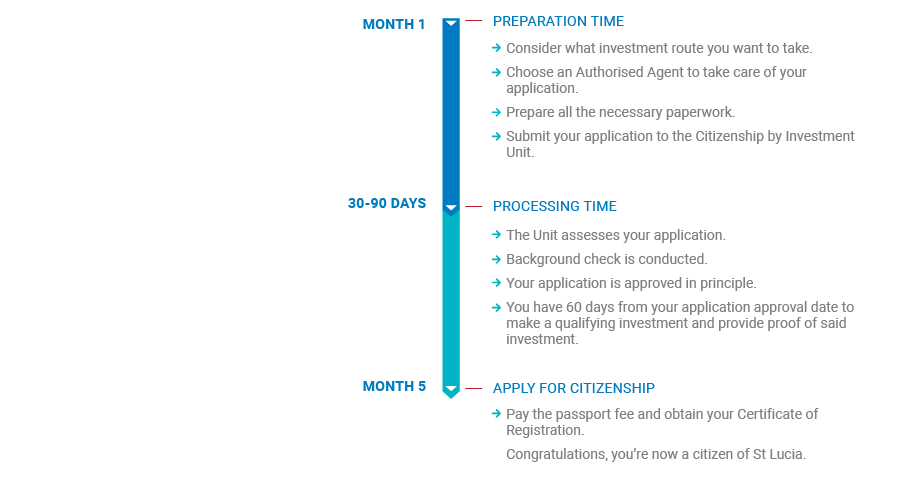 All applications are prepared by Authorised Agents on the behalf of the applicant and are assessed by the Citizenship by Investment Board (CBIB).
The average processing time from submitting the application to receiving an application outcome is three months. 
All supporting documents must be attached to applications along with the necessary fees before they can be processed by the Board. 
Where an application for Saint Lucia citizenship by investment has been granted, the Board will notify the authorized agent that the qualifying investment and required government administration fees must be paid before the Certificate of Citizenship can be granted. Applicants usually have up to 60 days to make such a qualifying investment.
Once proof of the investment has been submitted, applicants are granted Saint Lucia citizenship.
Where a citizenship application has been denied, the applicant may, in writing, request a review by the Minister.
 JUNE 2020 UPDATE:
Saint Lucia has made some important amendments to its St Lucia Citizenship by Investment Act.  In the event of unforeseen circumstances, the revised Act allows for an extension to the usual time period for the main applicant to make the qualifying investment and pay any other fees. This extension applies to both standard and post-citizenship applications. For more information on these recent changes, check out our article here.
What the revised Citizenship by Investment Act means for investors
These 'unforeseen' circumstances include first and foremost, the unfolding COVID-19 pandemic. If you're in the process of applying for the Saint Lucia citizenship by investment program and are concerned about your ability to make your investment within the usual 90-day approval in principle due to COVID-19, an extension can be granted.
Who can submit the application for the Saint Lucia citizenship by investment program? 
All applications are processed by an Authorised Agent.
Get in touch with our specialists at Global Citizen Solutions for more information on how we can support you throughout your application.
Step-by-step guide for the St Lucia CBI application

To get a Saint Lucia passport, follow these simple steps to achieving dual citizenship.
Choose an Authorised Agent to process your application. Your Authorised Agent will walk you through all the necessary paperwork and requirements for a successful citizenship application.

Complete all the application forms as provided by your Authorised  Agent. Make sure all the documents are legalized according to the Unit's standards (more information on document requirements below).

Government assesses application and conducts background checks on each applicant.

The Unit approves your application within 60-90 days of applying. A letter will be issued, with detailed instructions on making your investment. 

Choose your preferred investment within 60 days of receiving notice from the Unit. Submit proof of purchase of your qualifying investment, as well as the government application fees.

Become a citizen. Upon receiving proof of payment, the Unit issues the certificate of citizenship registration.  Applicants must then submit the passport documents and passport application. You are then granted citizenship of St Lucia and will be able to receive a St Lucian passport. 
St Lucia citizenship program document requirements:
Important information: Applications for citizenship are only handled by registered Authorised Persons. Furthermore, the list of required documents are not exhaustive. The unit may request additional supporting documentation from the applicant.
General Saint Lucia investment program document requirements:
Original excerpt of full birth record or certified copy of birth certificate.

Certified copy of proof of name change (if applicable).

Permanent residence card (if applicable).

National identity card (if applicable).

Certified coloured copy of current passport(s) showing name, photo citizenship/nationality, date and place of issue, expiry date, passport number and issuing country.

Photograph and signature certificate. For children below 18 or if dependent please insert N/A in the designated signature slot.

6 original passport-sized photos of each applicant taken within the last 6 months. Face must be neutral. 1 photo needs to be affixed to the Medical Examiner Declaration. 

Proof of residential address valid within the last 3 months. Examples include: Certified copy of a recent utility bill corresponding to your address OR bank statement showing full name and address to show proof of address.

Marriage or divorce certificate.

Copy of military service card (if applicable)

Affidavit from spouse or ex-spouse relating to children.

Affidavit of support for dependents.

Education certificates and transcripts.

Professional and academic certificates (submit these for children over 18 years old too).

Professional reference letter (From an attorney, chartered accountant or other profession of similar standing) valid within the last 6 months immediately before the submission of the application.
Supporting documents for the application
Certified copy of your current and expired visas

Police certificate from country of birth; and from any other country in which you've resided for at least 1 year.The police certificate should be no more than 6 months old.

Custody or legal guardianship records.

Statutory declaration of a non-accompanying parent of a qualifying dependent below 18 years old, indicating that he or she has no objection to his/her child acquiring St Lucian citizenship.

A certified copy of a photo ID of a non-accompanying parent bearing his/her signature.
Translation of documents
Documents written in a language other than English must be accompanied, at the time the application is submitted, with a certified translation into English only. The translation must be done by a translator who is a member of a professional order or is authorized to act professionally in this capacity and must be complete and faithful to the original document. The text, seals and signatures of the original document must be translated.
Certification of documents
Where a document is required to be produced in support of the application for citizenship by investment, it must be certified and authenticated in accordance with the law of the jurisdiction from where the document originates.
Saint Lucia citizenship cost
When thinking about the Saint Lucian citizenship cost, there are a number of fees to consider. 
These fees are outlined below in the respective table charts. Note that the government-set fees are subject to change at the government's discretion.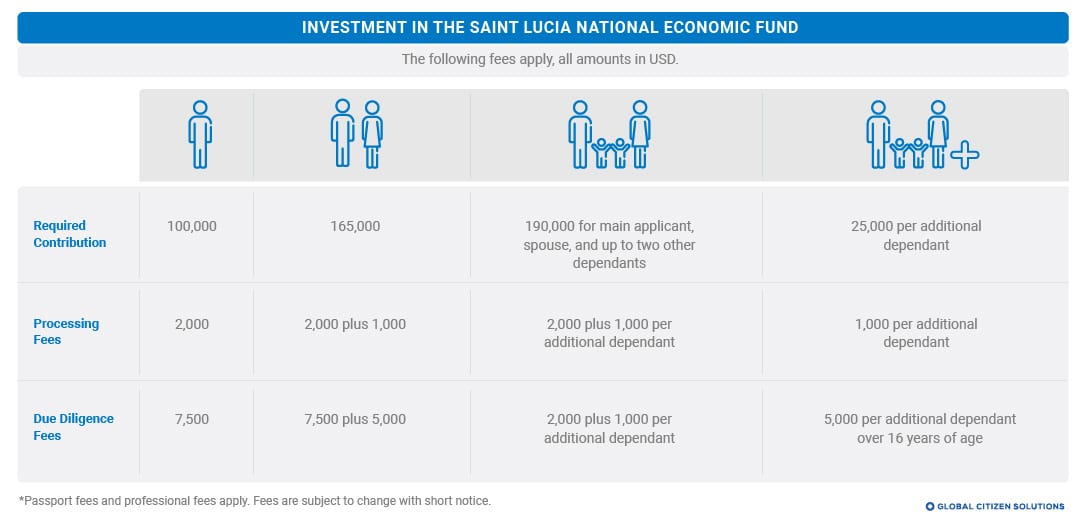 Investment in pre-approved enterprise project: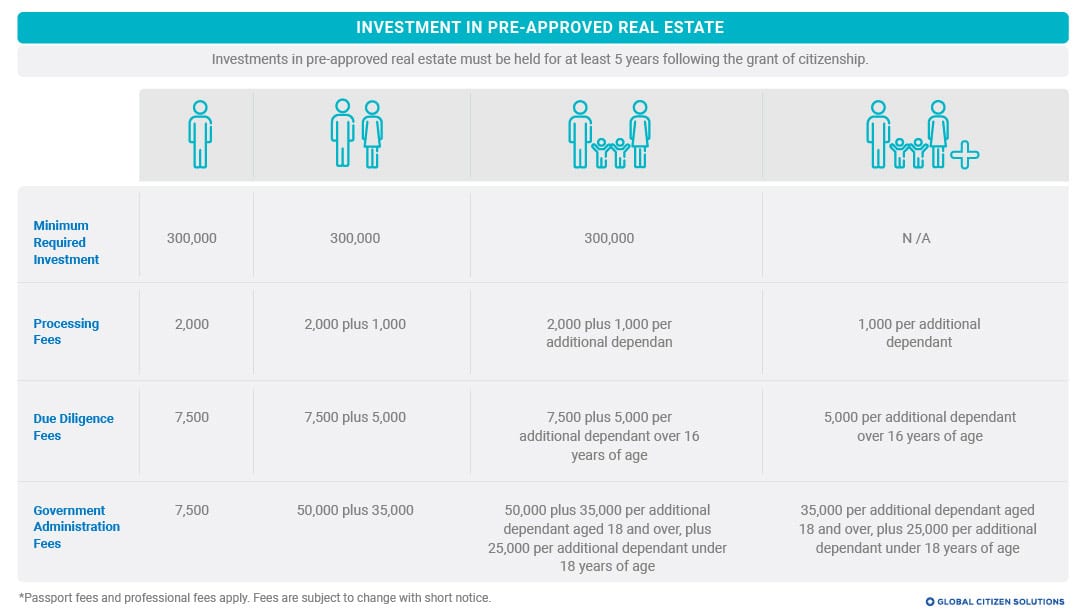 Additional agent fees and saint lucia passport application forms must be taken into account.
OUR COMMITMENT TO OUR CLIENTS
At Global Citizen Solutions, we work first and foremost for our clients, providing unique tailor-made solutions to each individual.
Making an investment and moving abroad may seem daunting, we know this from first-hand experience. At Global Citizen Solutions, we guide our clients through each step of the citizenship process, with 100% success rates.
Contact us to learn more about St Lucia's Citizenship by Investment Program, or to learn more about other residency and citizenship programs we work with.